DOCUMENTARY
The HANDs -the Oldest Midwife-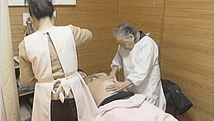 Yukino Abo, 93 years old, has been working as a midwife without any holiday and by day and night. She had taken 4200 babies so far, and still is taking more than 100 babies a year until now.
What she needs most is her"HANDS" which is being delivered to the next generation. There are so many great and kind hands in the program.
Yukino shows us the direction of hyper aging society in Japan by continuing her job and being necessary by the others.
| | |
| --- | --- |
| Subcategory | Documentary/Society, Aging Culture |
| Duration | 48min |
| Episodes | Special |
| Production Year | 2005 |
| Materials | HD |