DOCUMENTARY
A Message from Chimpanzees '15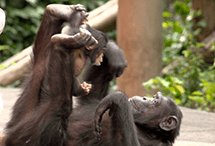 Ai and Ayumu, the most famous chimpanzee's mother and son in Japan because of their unusual ability for language and numbers, are again passing their great message to us through the program.
Ayumu, is now a grown man and still is spending his life agonizing about Pan, his secret crush. He admires his father, Akira, the pack leader, but does not know what to do at all.
The short stories about chimpanzee that shares same gene and heart with human tell us the mystery and loveliness about us.
| | |
| --- | --- |
| Subcategory | Documentary/Nature, Science |
| Duration | 55min |
| Episodes | Special |
| Production Year | 2015 |
| Materials | HD |